Announcing an original mixed meida artwork Giveaway for your Valentine!
♥
The artwork above (Giving Love) is the giveaway item for the Valentine's Day. Another reason for the giveaway is that my birthday is just around the corner from the Valentine's Day.
This is an original piece of work created with Acrylic, Colour pencils, Crayons, Papers and Stamps. Size of the artwork is
5.8 x 8.2 inches
. The artwork will be posted by Air Mail and it can be framed for decorative purposes.
The entries for the giveaway opens today and will close on 23:59 GMT on January 31st, 2011. The final draw will take place on February 1st, 2011 and the winner will be announced on the same day.
I would be very grateful if you can do one or more of the followings:

1. Become a fan on facebook fan page.

2. Subscribe the newsletter by following me on my website www.shwethrikhit.com.
(
I will not send you spam email or share our mailing list with anyone else.
)

3. Publicise the giveaway on your blog or on your social networking page.
Please sign up if you're participating in the giveaway. Enter your name and URL in the form below and press ENTER. I will also need your email address so I can contact you if you're lucky winner.
People who participate by email.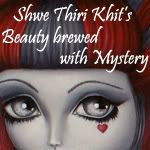 With lots of love and hugs,
Shwe-Khit
"Love is the real source of happiness"
♥♥♥