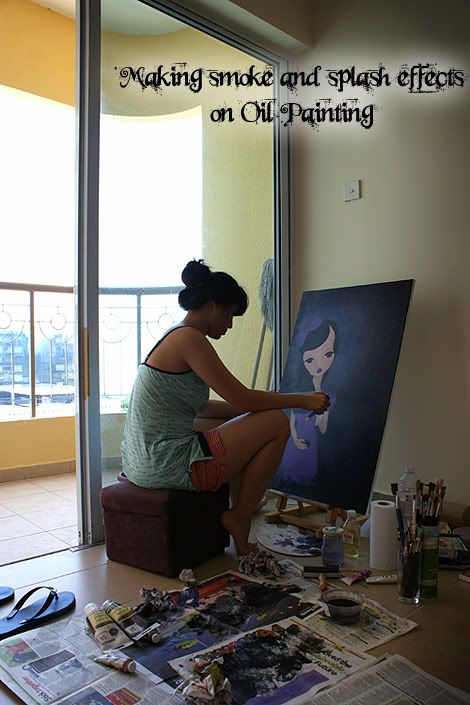 I would like to share with you a bit more about the beginning process of this painting before explaining how to make these effects. But this is not a tutorial though.
Firstly I sketched the image lightly in pencil directly on the gesso applied canvas and I chose the colour theme that are harmonious with the girl's skin tone, hair colour and clothing before mixing paints.
I mixed the main background colour first, and then consider painting of it that are slightly lighter and darker than the base colour. I painted the first layer of the background to cover the canvas entirely from start to finish while the paint is wet to paint all at once.

I started to paint the girl's skin, hair and clothes and then applied the second layer of the background after the base was dry. I allowed second and third layer to dry again before adding the next to make textures onto the background...
I have left the painting untouched for 3 whole days for the surface to dry completely. I used acrylic black to make the smoke effect on the background by using a little paint roller. Then I've made white acrylic mixed with water and splashed on the canvas using a tooth brush to get blurry and whimsy style. I also have used plenty of tissue papers to rub the surface. Here you will see in the image (right) and (below) how it shows.
I will make a post on the final finishing process of the painting when it is complete. I hope you like it. :-)
Please go to the contact page if you'd like to send me a comment or message.
I would love to here from you.
with love,
Shwe-Khit