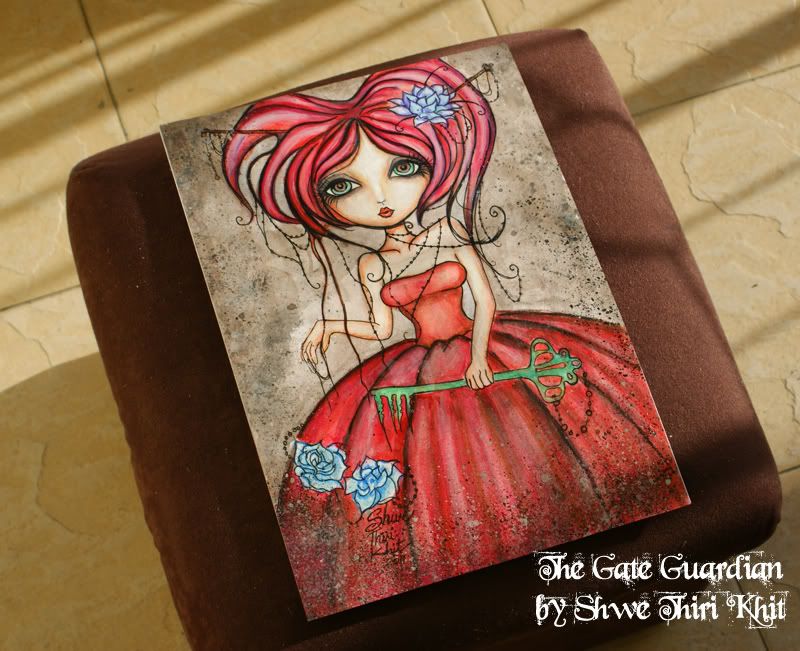 Yesterday, I was playing on this tiny mixed media work which is dark, dirty, messy and mysterious. She's "The Gate Guardian" (left), size of the work is 8.2 x 11.6 inches (A4).
It included different forms of medium: ink, colour pencils, crayons and acrylics. When I've done the sketch, I added white and black into the water pallet to create the dirty grey colour. A touch of brown paint was included too. And I've tried to paint to get an effect that's similar to the flowing of water, smoke and splash effects on the background.
Then you can see that I painted her face and skin with watercolour pencils, mixed with white acrylic paint and afterwards more watercolour pencils applied after the base was dry. The foreground is richer and thicker in textures compare to the background. It was painted with acrylic to give a poster style look.
The whole painting has completed with lots of black and white paint splatters, to give a dirty look. The finishing touches were done with gloss varnish. The colours are vivid and gorgeous! The paper is not a typical water colour paper.
Well,, I was experimenting on this mixed media project. I wanted to apply the effects on the paper first before I do it on the canvas because currently I'm working with the oil painting and I hope to use these smoke and splash effects on the background of my new painting.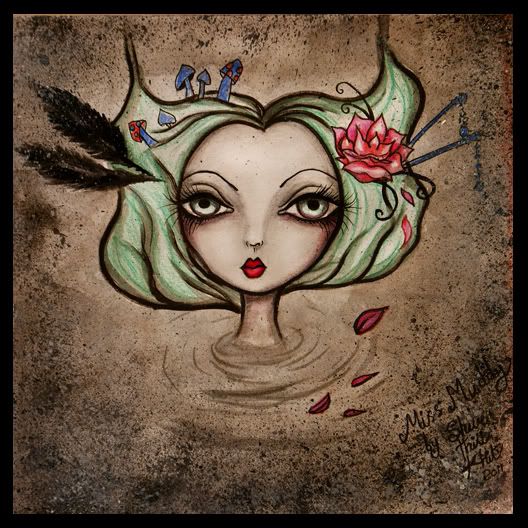 Here,,, I almost forgot to share you another experimented mixed media work I've created which is called Miss Muddy (above). She also has a dark theme, dirty and messy style look similar with The Gate Guardian.
Now this original work is available
here.