Boo... It's Halloween and there's magic in the air! Take your sweetheart's breath away on this spell-ta-cular night with my warm and romantic Halloween ecard for bewitched lovers. It's time to send your Halloween wishes! Treat your friends, family and loved ones with my ecard 'Little Zombie Girl".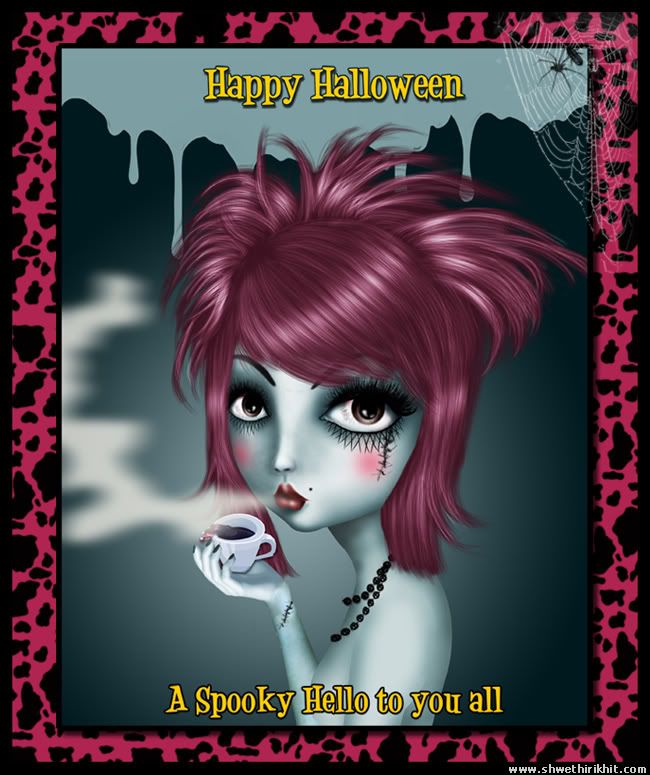 Feel free to

download

by clicking image to see full image.
This is Free e-card to use for everyone!
Please note: This is for personal use only.

I wanted to thank people who supporting my works all the time, and
this is a little e-gift that I've made yesterday.
Feel free to grab my ecard for using on your own website, blogs, facebook, sending emails or anywhere else if you like.
When you're going to use,

It'd be very appreciatable if you could leave a comment in the post. This way will allow me to know how many people love my work

.

;)
And I have a video to show you all. One of my blog readers who is also doing art, he left a comment for me, adding this video link. Thank you! This is a cool video and I've got a feeling after watching this which is "strength" or "crazy about art"?? ha ha.. However there are tons of work with oil paintings -- (I'm working like a zombie from being a bit lazy.) Also need to work on commercial project as well as recent paintings this month. So that said, I won't be able to write another new post during this week.
Plus, I will spend my time to watch scary movies on Halloween night!!
See you next week after
Halloween

Halloween

Halloween

...