So what did you do? Did you have a fun Halloween? We've been decided to make spooky things. My ATC swap partner is Sherrie Ann Divelbiss for the month of October. The theme is "Spooky" and she sent very creepy ATCs to me (pictures below). You will see in details there are many various paper layers on it, and she collaged them so well to be nice composition. Also the colour taste of vintage makes me feel very dark!!! Just wow!! I was shocked to see her ATC arrived in the mail. Love so much what she created for me and I
'd keep them to my private collection. {visit here}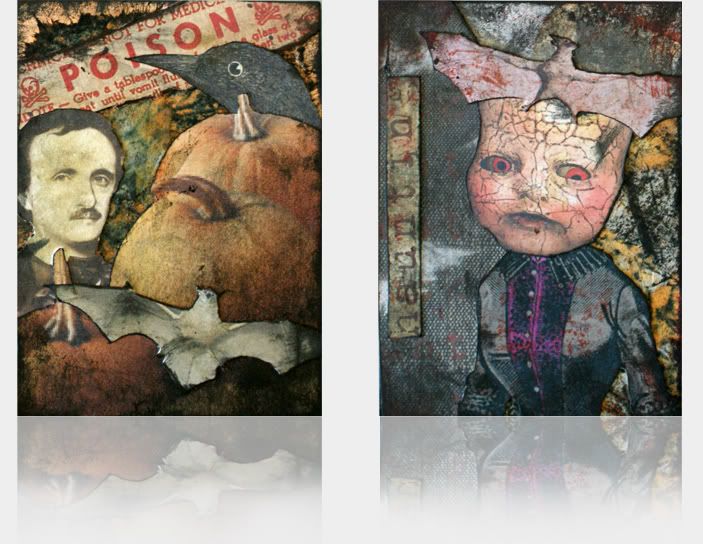 Below pictures are the ATC I sent to Sherrie Ann Divelbiss. Mine are painted with oil on to the cards, actually I used the brightness colours to the dark things of the theme. So this may look a bit more cuter than the taste of spooky. Sherrie's mixed media collage art are creepier than I made but I'm so glad to know that she likes my works.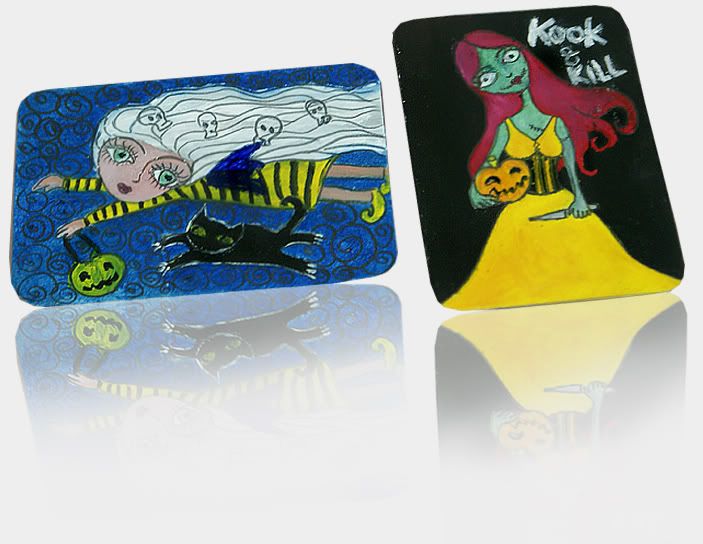 Please contact me if you want to swap ATCs with me. :-)
What is ATC (Artist Trading Card)?
An artist trading card (or ATC for short) is a tiny, original piece of art created with the intention of swapping or trading it with another artist, not selling it. The one rule an artist trading card must adhere to is the size. An ATC must be 2.5x3.5 inches or 64x89 mm.
On the front of an ATC an artist creates an original work to showcase their art. It can be a one-off, part of a series, or a limited edition. On the back the artist puts their name, contact details, title of the ATC, number if it's a limited edition, and sometimes the date it was created. Artist trading cards can be made in any medium and using any technique, whether it's painting, drawing, or collage. The whole aim is to be creative and communicate with other people being creative. read more