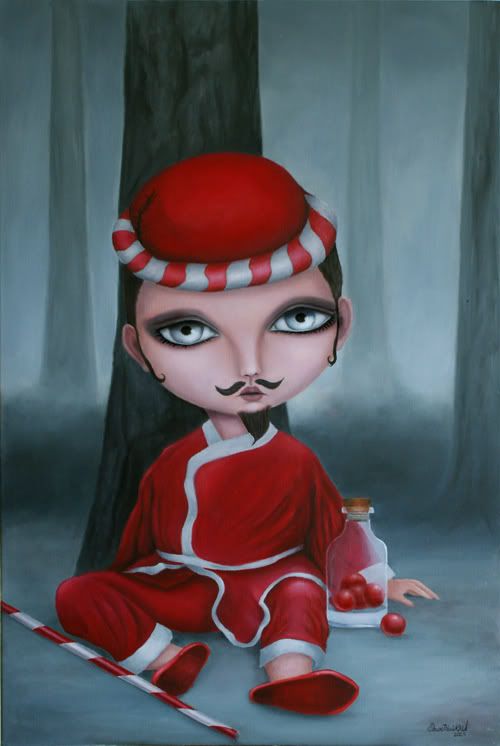 This latest post shows my last artwork
which is a Burmese myth painting.
He's oil on canvas, size - 24 x 36 inches, called "The Red Alchemist". Usually people from Burma call him "Zaw-gyi" who can create or do whatever he wishes. We believe Zaw-gyi(s) are just living in the forest Himalayas, other mountain ranges and other least known places, mostly far away from people. Normally a typical Zaw-gyi has a magic wand and a number of metallic balls as his tools. Zaw-gyis typically wear red coloured robes trimmed with stripes, red slippers,
trousers under a tucked-up pasoe (not here)
and the one in my painting is close to a real life Zaw-gyi in appearance plus my own style.
He would turn a stone or scrap metal into gold or a dead to a living, he would relieved his loneliness by playing with nymphs created, with the touch of his magic wand or staff to fruits of a certain vine. He is symbolic in lending support to good folks in troubles. He actively seeks herbal plants and roots to be used as powerful medicine, which he would offer to the needy helpless. His red wand (or long staff) is magic as well! Prodding with it, he might turn one to anything as he wishes. He could fly in air or pass through earth. He could transform himself into any other form he desires. There's no end to his magical and mysterious power. An avid dancer, his dance steps and acrobatic leaps are fast and sophisticated. Also, I will show you other sample picture of Zaw-gyi. (image below)
I've had tried to sketch down him in my sketch book, and the one in my painting is close to a real life Zaw-gyi in appearance plus my own style.
Oh you know his outfit is very similar with Santa Clause though. LOL... However I just love to paint around with plenty red colours on to the canvas. I hope you enjoy with my painting this week. See you again. Byeee.....